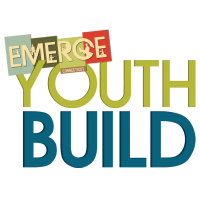 EMERGE YouthBuild exists to unleash the intelligence and positive energy of low-income young people to rebuild their communities and lives.
EMERGE YouthBuild is a Department of Labor (DOL) designated program that works with opportunity youth in the city of New Haven to prepare them for success as adults by significantly improving their basic academic skills and preparing them for career path employment or training. 
EMERGE YouthBuild Crew Members Participate In:
Mental Toughness: A three-week pre-acceptance course focused on delivering employment, education, and life skills training while assessing the applicant's dedication to his/her own personal and professional development and ability to adhere to the EYB code of conduct. 

Pre-Construction Training: A four-week course that teaches topics like workplace safety, proper and skilled use of manual and power tools, material and tool identification and construction terminology.

Integrated Core Training: A 20-week integrated core training curriculum that provides a rotating schedule of educational activities, occupational skills training, leadership development, counseling and project-based community service learning.

Career & College Coaching: A 12-week post-program support during which all EYB crew members receive counseling and information needed to make informed decisions about whether to pursue a career in construction or another sector, to enter an occupational skills training offered through the American Job Corps (WIOA), or enroll in community college for a degree or industry-recognized credential. ​

Applying to EYB Infographic
EYB Excursion: Teambuilding@SkyZone

EYB Excursion: Teambuilding@SkyZone

EYB Excursion: Teambuilding@SkyZone

EYB Excursion: Teambuilding@SkyZone

EYB Excursion: Teambuilding@SkyZone

EYB Excursion: Teambuilding@SkyZone

EYB Excursion: Teambuilding@SkyZone

EYB Excursion: Teambuilding@SkyZone

EYB Excursion: Teambuilding@SkyZone

EYB Excursion: Teambuilding@SkyZone

EYB Excursion: Teambuilding@SkyZone

EYB Excursion: Teambuilding@SkyZone

EYB Excursion: Teambuilding@SkyZone

EYB Excursion: Teambuilding@SkyZone

EYB Excursion: Teambuilding@SkyZone

EYB Excursion: Teambuilding@SkyZone

EYB Excursion: Teambuilding@SkyZone

EYB Excursion: Teambuilding@SkyZone
EYB Frequently Asked Questions